10 months ago, I had my darling Baby Bean. The third of the Sterling boys, Bean arrived after a very rough pregnancy and a very easy labor.  (Apparently, by the third time, you're a pro).
Here is my Baby Bean and I at the Beach together this summer: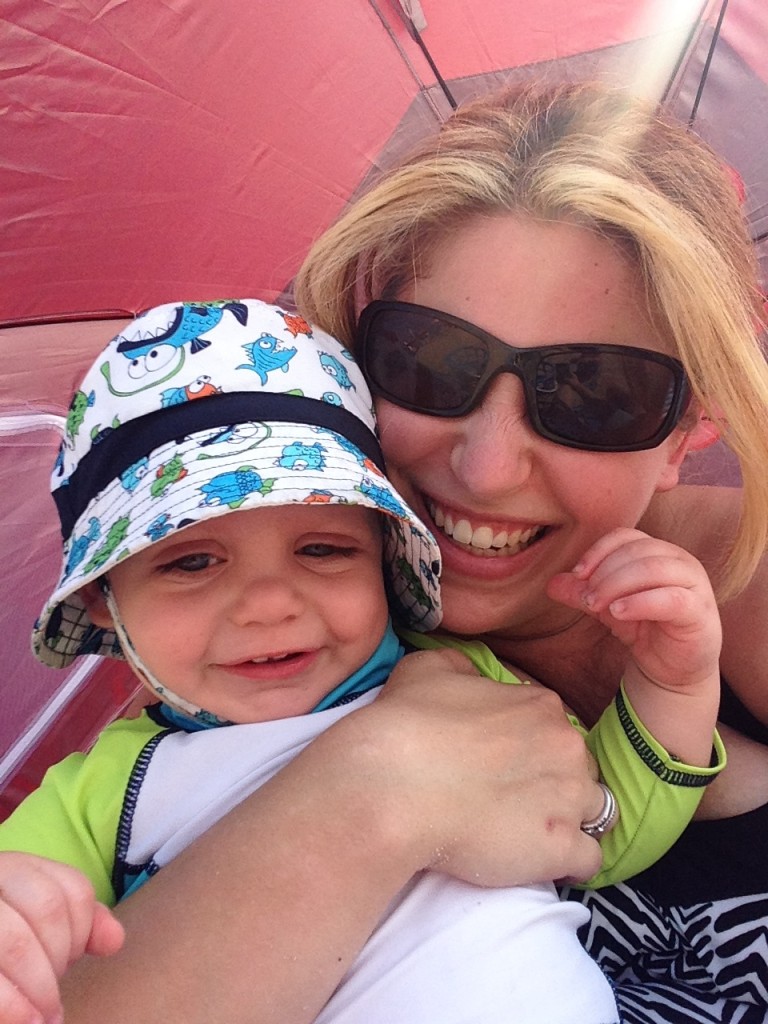 Now that it's 10 months later, I am finding myself loving every moment of my life with my even bigger family. But, I recognize more than ever how important it is for me to be around, active, and healthy for my boys.
I also have realized that I am continuing to fall into old patterns and I need to stop. I put everyone and everything else before me – my marriage, the kids, my work, everything is SO important and needs my attention. So, I don't take care of myself as a result. I know this is a common health trap for Moms. I'm sure I learned it from my Mom, who put everyone else first her whole life. But, for the importance of my health and my sanity, I know it is so important for me to be healthy and present for my three amazing little boys. So, I know I need to change. I have decided it is time to TAKE ACTION and get back to my formerly fit self (especially now that I'm done having babies!!)
One other thing that has held me back from being the healthiest me I could be is medical issues. I've had surgeries, illnesses, 3 pregnancies, etc, that have all set back my weight loss and fitness efforts.  I have the added issue that I shattered my right leg in college and can no longer run or put major high impact stress on it – and running was one of my go-to cardio exercises as a former competitive swimmer and runner.
Even scarier, my family medical history includes diabetes, heart disease, stroke, cancer and Alzheimer's. If I do not see to it that I am healthy, eating well and exercising regularly, then who knows what length or quality of life I could have with my boys. And, my quality of life is almost certain to decrease quickly as I get older and my body begins to follow my genes.
And, that is why I'm working REALLY hard to take control of my life and put health first. In the past, we Sterlings have gone through unhealthy and VERY healthy spells. 8 years ago, we were on a very tight budget, cooking what we could afford, buying fast food and, overall, were much less knowledgeable about what goes in our food and what a proper diet should be. Over the years, I have done a lot of research on our food supply (some would say, food crisis) and we have changed our habits for the better. (PS: I highly recommend reading the book The China Study to learn more about why a healthy, plant-based diet is the best approach for your long-term health and to avoid diseases common to the overweight).
As a result, we are much healthier today than we were 8 years ago. Today, we eat zero fast food, we rarely have processed food, we consume a lot less sugar, I no longer cook red meat/we don't eat as much animal protein altogether, we eat Organic and GMO-free for 90% of our food. And, I'm proud to report my husband now picks up a bag of almonds instead of a Snickers bar when he stops for a snack on his way to his gigs. Trust me, this is a BIG win. 🙂
But, I'm not where I want to be yet. Since I had Baby Bean, I've only dropped ~15 pounds of baby weight, on any given, fluctuating day. I've been working pretty hard, but I'm finding it extremely tough to make the time, to be accountable, and to stop sliding backwards, especially with three kids and a full-time (50-80 hour/week) job.
I also find that I run into the issue of not having the time to put the right habits in place. It's so easy to make a bad decision or to grab something you can shove into your face on-the-go. I'm finding it harder to build my good habits again, being more busy and stressed than even before. But, good habits do keep, so I know it's just the effort that is needed upfront to get there.
So, I want to be a better me – and I NEED to be a better me more CONSISTENTLY. I hope to be a good role model for my children and set them on the healthiest path for their life. And, I want to BE there for my children – and be able to actively participate in whatever activity we do together. So, I am making myself a vow – and I'm making it publicly to hold myself accountable: the time to start getting healthy is today (was yesterday?!).
As mentioned, I've lost 15 pounds most recently due to simple diet changes and adding more exercise into my routine. But, I'm far from consistent and I keep sliding backwards. It's two steps forward, one step back with me! Today, I make the vow  to get really serious about nutrition and fitness for once and for all.
As I embarked on my journey to health, I decided to go to the people who I know are SUPER fit and health conscious for advice.
I first asked a super health-conscious and fit friend from work what his secret was, he shared a few T25 (hard core 25 minute workouts) with me so I could see what the program is like. He also told me he lost 50 pounds and kept it off ever since using these Beachbody programs (his wife is a Beachbody coach). I started doing the T25 exercise program and it is kicking my butt! I started losing more weight right away, after having plateaued for a while and attribute it to the program since I didn't really do anything else differently other than adding T25 workouts to the mix.
Then, I got to know the lead singer of my husband's new band, who is also a gorgeous fitness guru and learned she is a Beachbody coach. Seeing her commitment to fitness and nutrition on Facebook (and looking at her as a walking result) was enough testament to the product to intrigue me – since from everyone I know and everything I saw, it seemed like a structured, proven solution. And, because it is all about getting fit the healthy way. There are no gimmicks – just hard work, exercise, eating plans, and a focus on nutrition and portion control. I'm not one for gimmicks, so doing it the hard work way seemed right. After finding out more about the program, I loved the approach. And, I love the added support of a free coach and the social support of others going through the same program that I get through a Beachbody Challenge group.
Because I can never do something partway, I decided to sign up to be a Beachbody coach at the same time I signed up for my first fitness and nutrition challenge. My coach recommended that I do the 21 day fix to start getting my healthy habits on track. I'm SO excited and think committing only 21 days to start to get to a new me is a great way to start. Bite off what you can chew, and all that good stuff.
My 21 day fix just got here in the mail and I have been prepping meal plans, grocery lists, food, and my BRAIN to get ready ever since!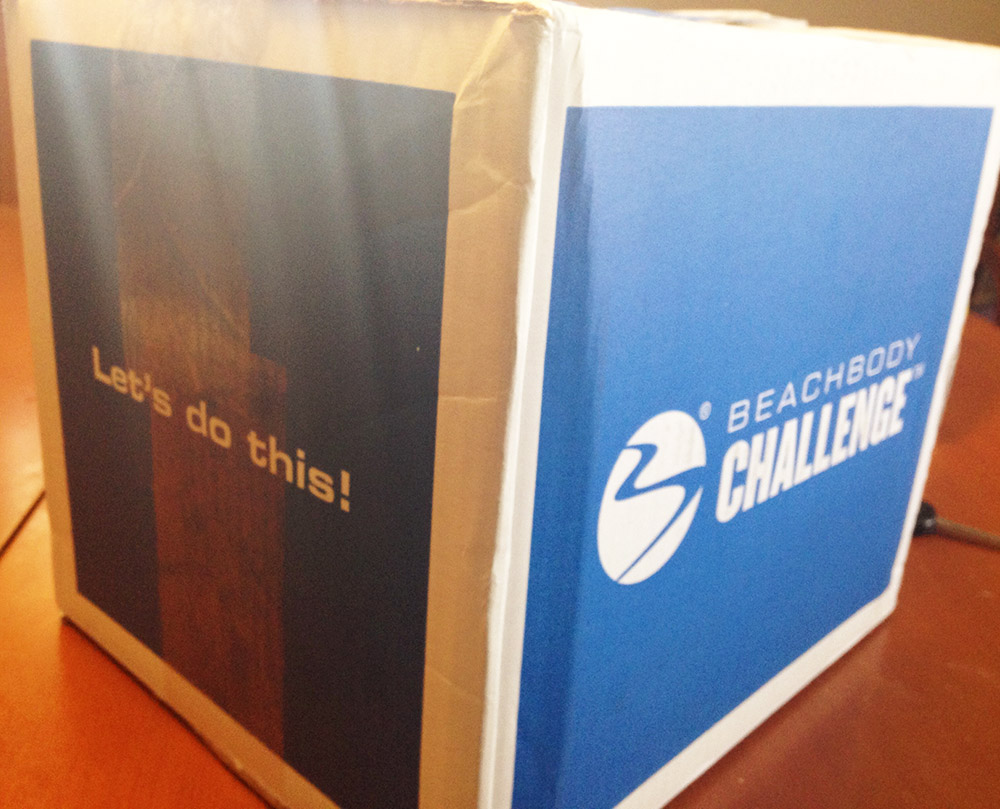 I'm especially excited about adding Shakeology, a nutrient and superfood packed shake to my diet. Check out everything that comes in one Shakeology smoothie!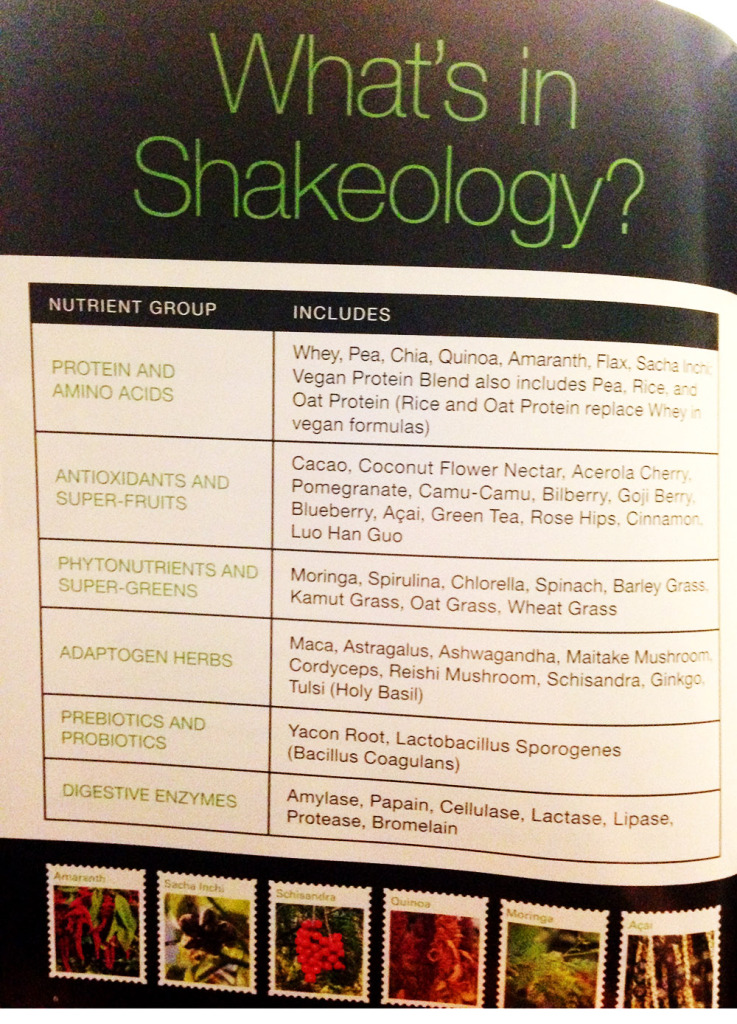 Oh, and Sterling Dad's going to do this thing with me too. We'll see how that goes, but I appreciate the support!
And, stay tuned for the Before & After because I'll be posting my results, whatever they are, at the end of the 21 days!
If you are interested in joining a fitness and nutrition challenge group OR just interested in learning more about exercise programs like T25, Insanity, P90X, PiYo, and more…
– or –
Email me at jamieasterling@gmail.com