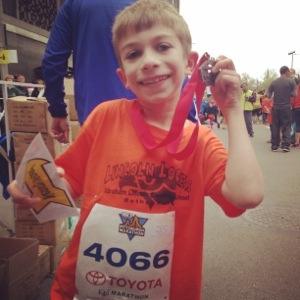 Guess who ran the Pittsburgh Kid's Marathon today?! My little Dude!!
I'm super proud of him!! He ran faster than ever – definitely faster than any of the neighborhood practice runs!
I love the Lincoln Logger program that his school did around the marathon. We tracked 25 miles run over a 3 month period (included an extra school workout running session every Friday at recess) and then the kids completed the marathon'a final 1.2 miles in a race through downtown Pittsburgh that ran from PNC Park to Point State Park.
The Dude's response??
I can't believe I won! Today is the best day ever!!
PS: An extra big, public thank you to my awesome husband who ran the race with the Dude since my bum leg wasn't cooperating. He's a mighty good man. Yes, he is.