I purchased this 2 pack Munchkin Fresh Food Feeder off Amazon for Baby Bean's Easter basket. You can get these at stores like Target, Babies R Us, Walmart, and Burlington Baby Depot too!
So, little man tried it …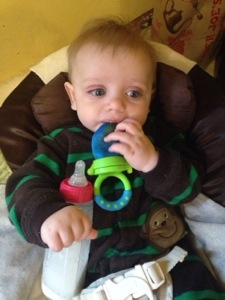 This baby product review verdict?? 5 stars!!
Any product that soothes a teething and a hungry baby at the SAME TIME is a winner in my book!
It's pretty messy, but well worth it. I love taking age-appropriate frozen fruit (I prefer frozen Organic fruit from Trader Joe's) and putting a few pieces in and letting Baby Bean go to town!