In honor of Mother's Day, I wanted to share my motherhood journey, aka my Mommy story. I am certain that everything in life is meant to happen and I believe that everything that has ever happened in my life led me to my purpose – to be Mommy to my sweet, handsome, wonderful little boys. It doesn't matter how we become a Mom, it's how we love our kids that matters. Here is the Sterling family story, which is full of love, struggle, and a few wonderful surprises! 😉
1980s – 1990s: Flashback to My Childhood
As a little girl, I was very ambitious…very "Type A," some might say.  I always planned to go to college and have a career. First, I thought I'd like to be President. Later, after reading too many Lurlene McDaniel books, I thought being a doctor would be more rewarding. But, I also always knew and declared that my first and foremost goal in life was to get married and be a Mom. Like so many girls today, I wanted it all. I made baby name lists, played with baby dolls, dreamed all those sweet little girl dreams about marrying Prince Charming and having little princes and princesses and puppies too! This might also explain my early and ongoing boy craziness. (Sorry, Mom & Dad).
Also, having been a bit neurotic, even when younger, I had this feeling that I might be infertile. Perhaps all women who want children have this fear? I always did. I remember knowing that I wanted to be a Mom SO MUCH that I decided I could always adopt as a backup plan, if necessary. A little girl from China would do fine.
How wrong I was …and how unnecessary that backup plan turned out to be!
April 30, 2005: Flash Forward to the End of College
April 30, 2005 was the day after finals were over in the junior year of college and it was the day I met my future husband. After the first night we met, we were both so sure we had met our soul mates that we both told our friends that we met the person we were going to marry, even though we lived 8 hours distance from each other! Read our "how I met your mother" love story.
This is me in my junior year of college, right around the time I met the hubster:
June 2005:
After our long-distance beginnings, my husband, Marc, quickly moved to the Pittsburgh area and we started planning the future. We talked about his music career, my law school aspirations, and us eventually getting married and having children. We wanted it all…eventually.
And, we got it… even sooner than planned. 🙂
Here we are, loving having found each other:
October 2005:
One day, I received the envelope containing what was to be, at that time, the key to my future career – the envelope that contained my LSAT (Law School Admissions Test) scores. I opened it and found out I scored in the top 6% of ALL test takers nationwide, or better than 94% of other potential law school applicants. I felt like my future was set at that exact moment. On to law school, then who knows?!
That exact same day, as I started researching Ivy League law schools, I realized that things weren't "quite right" in the feminine department. I decided to take another test that evening. I passed that test with flying colors and that's when we learned about the little dude coming our way in nine months.
It was the fall of senior year of college, I had recently turned 21, and I was planning to go to law school the next year. It was a pretty frightening time, because I had always been on such a sure path. And, then, all of a sudden…I wasn't. My path crumbled and I didn't know what I was going to do next. With my career, that is.
There was never much question or discussion of what we would do when it came to the baby. We were engaged soon, married 6 months later on March 5, 2006 over my college spring break, honeymooned over spring break and, a month later, I graduated college magna cum laude and Phi Beta Kappa with multiple degrees and professional certificates… and while seven months pregnant.
This first pregnancy was relatively uneventful, if you don't count also having to deal with very difficult Honors college classes, finals, a near full-time side job to begin to save money to support a family, and not having a darn clue about what the future held. But, we were young, in love, and so excited to meet our baby. It was a scary time, but it was a beautiful, innocent time as well.
While some people might be ashamed or embarrassed to discuss a pregnancy that preceded a marriage, I'm not. I'm proud that we made the right decision (for us) to bring the child into this world and that such a beautiful thing as our family could have started so small and so quick. I'm proud and happy that we toughed it out through the toughest of times. And, we have also enjoyed the best of times. So many moments in my life have given me the glimpse that I'm in the right place, that I'm exactly where I should be.  The universe continues to show me that everything was and is meant to be. Nine wedding anniversaries and three little boys later, I'm prouder than ever.
June 21, 2006: Arrival of The Dude
Soon after we got married and the schoolyear ended, we moved out of my college apartment and moved into a little townhouse south of Pittsburgh. I continued working at my side job up past my due date during this time. Eleven days after his due date and two days before my 22nd birthday, the little dude joined the Sterling family.
4 months later, I began job hunting, found a job in Digital Marketing and both my family life and career took off from there.
A funny side story… When the recession hit hard in 2008, the law profession was one of the hardest hit. I would have graduated law school in 2009, when there were no jobs and low pay for the available ones. I know friends who have a lot of debt and do not have the same salary or job opportunities in their law careers when compared to 10 years ago. I was lucky to randomly land in Marketing & Advertising, an area I didn't even study in school, during a time when Search and Digital Marketing exploded and there was lots of opportunity for education and career growth for me. As a Director of Marketing today, I am in the best possible career position I could see myself in at this stage of life and just KNOW that the universe told me it wasn't a good idea to go to law school in the best way!
September 2010:
Four years later, we became a little more comfortable with our career and financials and, frankly, I was dying to have another baby!
We had a planned vacation that we wanted to enjoy in the summer. I wasn't able to fully enjoy my honeymoon, being 6 months pregnant, so I was trying to make sure that didn't happen a second time. But, we agreed that after we got back from vacation, we would begin trying for a second child that fall. I had my IUD removed and one week after we started trying, we were pregnant again!
It wasn't as easy of a pregnancy as my first and I was certain this baby was a girl because no Mama's boy would ever give his mommy such problems! I had extreme morning sickness and was hospitalized more than once for dehydration. It was horrible! I still shudder thinking about it. After a very rough nine months, we were ready to expand our home and hearts to a new member of the family. But, after the nine months of you-know-what, we agreed we were happy as a family for 4 for the near, if not permanent, future.
June 14, 2011: Arrival of Little Bird
Once again, exactly eleven days after his due date, our second son, the Little Bird, was born. Watching our older son, who is five years older than his younger brother, welcome the little one in the family was one of the most magical experiences of my life until that point.
Our Little Bird quickly filled his role as spoiled, youngest child and we again decided on a semi-permanent method of birth control (the Mirena IUD).
March 2013:
A year and a half later, I came down with what I thought was a terrible flu. I missed four days of work in a row because I just couldn't stop vomiting. After the flu continued to not let up … and after I did some math…I realized that something again seemed 'not quite right.' I called my husband, who had taken my sons to the park to give me time to rest at home.
Here's how that conversation went…
Me: Honey, This is crazy, but you might want to pick up a pregnancy test on your way home.
Marc: Oh my God.
He and I both knew instantly. It was just that gut feeling. The pregnancy test confirmed my suspicion! I was pregnant.
But, WAIT, how could that have happened, considering I had an IUD in?!
Turns out that an IUD can spontaneously migrate and perforate (puncture a hole into) your uterus lining and move into your abdomen. You know, where all those kind of important organs live. And, the only way to get it out is surgery. And, you can get pregnant if this happens (in fact, I was very lucky and many have had babies with birth defects or even miscarriages as a result of this issue). But, that, my friends, is a story for another time.
If you couldn't tell by the start of my 'flu' story here, this was another very rough pregnancy. I was once again hospitalized (two times) for dehydration. I had to be prescribed the medicine that is given to chemotherapy patients to stop the nausea. It was a pretty rough nine months, especially since I was working full-time (while a colleague was out on maternity leave) and had two other boys who wanted my attention. The third time around, I was a little more nervous than with the second baby. I could picture being a family of 4, but being a family of 5 was outside of my frame of reference. I knew I was great with babies, but I wasn't sure if I could handle having 3 kids!
Here's a little pregnancy progression for you:
November 1, 2013: Arrival of Baby Bean
Halloween night and it was time to go to the hospital. I kind of had the whole child birthing thing figured out by the third kid. I mean, I had my hair did, my nails done, iPad loaded with shows & books. I knew what to expect and I actually, really looked forward to the whole thing! Here I am, earlier in the day:
After only a few hours of contractions and about 3 minutes total of pushing, our Baby Bean was born.
Oh my goodness, you guys. I didn't know I could feel this way again and so powerfully. I could FEEL my heart grow to fit more love for this baby into it. And, the feeling grows every single day of my life. Here's what else I learned when I had my third baby.
As my children grow, learn, smile, sing, dance and become little men, I find myself completely overcome with a feeling that can't be explained. Good parents know the exact feeling I mean. I can't imagine my life without my three little miracles. I was put on this Earth to be those little boys' mother. I am not certain of much, but of this, I am certain.
And, here are my sweet boys today:
December 27, 2013: The End
During my IUD surgery, we also were able to perform a tubal ligation at no extra effort. I'm trusting that this permanent form of birth control is indeed the ending of the addition of Sterling children to this family. And, I won't lie…I've cried over that once or twice already. My baby is 6 months – he's barely even a baby anymore! 😉
Who knows…maybe I'll (once again) be a medical oddity…
Or, maybe I will adopt that little girl from China…
😉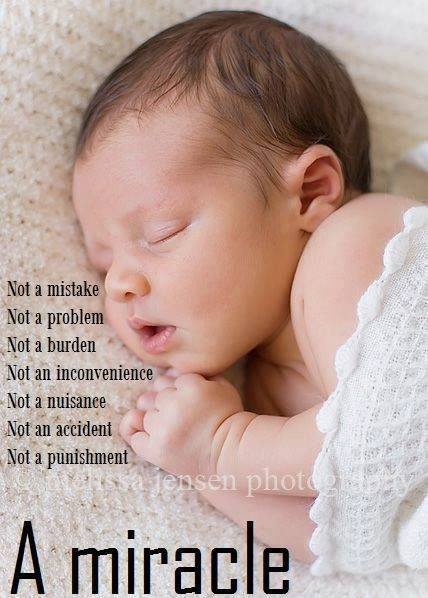 Happy Mother's Day to all you amazing Moms out there! What's YOUR Mommy Story?