I am once again trying to make the transition back to a more plant-based diet for the entire family. The Dude, my seven year old, is super happy about this. When we told him we were going to try to take a break from eating meat, he said,
"Yes, Finally!!"
My oldest son has never been a big meat fan – I think it's because he just doesn't like the taste of it and I also think a small part of it is that he doesn't like the idea of eating animals. He's sensitive to that sort of thing. But, I still remember him picking around chicken in pasta and eating the spinach when he was probably 18 months to 2 years old or so. Perhaps he was just born that way. They say many children naturally prefer a meatless diet.
Over the past few years, as I've learned about the benefits of a plant-based diet, I've done lots of research to make sure feed my family a diet that will keep them happiest and healthiest in the long term. If you're interested in learning more about what helped convince me about the benefits of a plant-based diet (and the dangers of a more "meat-centric affluent diet"), I recommend reading the book, The China Study. It really spells out the research and science much better than I can, although one day I'll have to do a book review of it, since it's really fantastic and interesting stuff.
Anyways, tonight's meatless creation? Green bean fries, buffalo cauliflower "wings" with goat cheese dill dip, all served with carrots, celery, and cucumbers. It's time to Veg Out!
Hubby teaches music lessons in the evenings, so I decided to tackle this dinner while he wasn't home. Maybe a bit of a mistake. The Dude (my 7 year old) was busy being obsessed with the newly discovered joy that is Lilo & Stitch (he can thank me later), the Little Bird (my 2 year old) decided he wanted to help me, and Baby Bean was asleep when I started, but soon woke up and added to the chaos by hanging out and getting upset with me in the kitchen. All of this after working a full 8 hour+ day of stress, meetings, and more. Gotta love being a working Mom!
It all started out okay…
Baby Bean was happy to see me: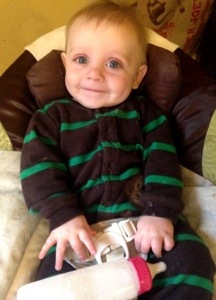 The Little Bird was ready to help: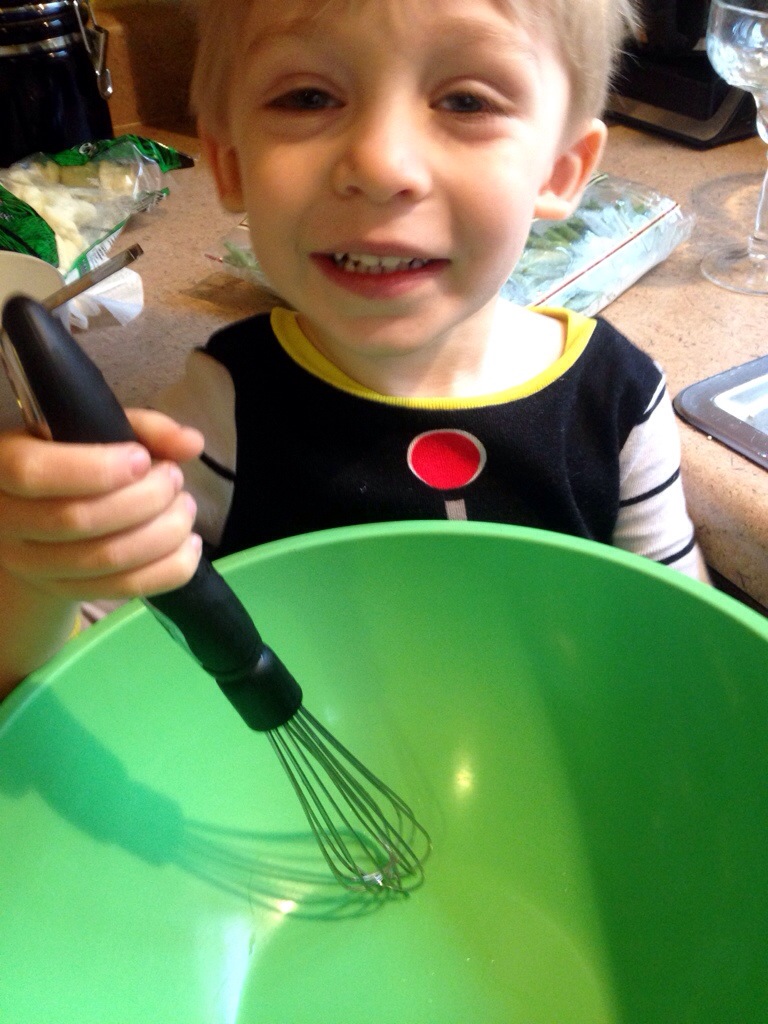 We started making the first recipe, the Buffalo Cauliflower "Wings" which seemed to me would take the longest.
Here is the first of my two favorite meatless finger food recipes:
Buffalo Cauliflower "Wings"
Trying to eat a plant-based diet can be particularly hard when we have cravings for our favorite foods. One of those for me is chicken wings – I love 'em and so do my boys! When I found this recipe on Pinterest, I got excited and made sure to pick up cauliflower the immediate next time I was at the store! The idea of making these was really the basis for how I formulated the rest of the dinner…I began thinking about my favorite apps and finger foods and their healthiest versions. And, ta da!
Here's the recipe for a pretty amazing vegetarian substitute for hot buffalo wings! Since I didn't change the recipe from original, I'm just including the link to it. These ended up a little soggier than I would have liked and the ingredient proportions seemed a little off to me. They tasted REALLY good, were super spicy, but I didn't like that i had to eat them with a fork. I was hoping for something a little crispier and felt like something just wasn't quite right yet. I think I want to tinker with the recipe a bit more before posting what I think my best version of it would be. Until then, see the original here. It's still worth making (and very easy!)
Recipe: Hot Buffalo Cauliflower Wings
And, here's what it looked like when it was almost done cooking: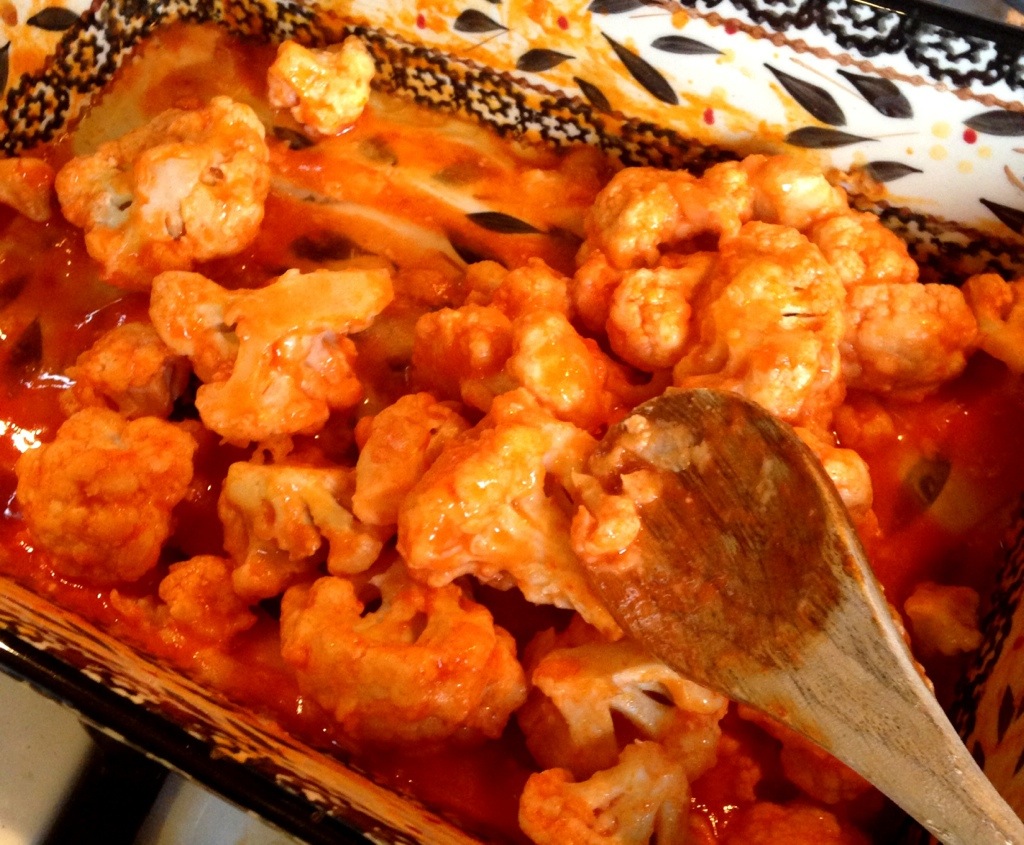 We did have an incident during the mixing of the coating with the 2 year old (we'll call him Ding Dong when he's acting like one). So, Mr. Ding Dong himself started eating flour that he spilled up off the table surreptitiously using and licking his fingers. I told him he wasn't allowed to do that, which led to this: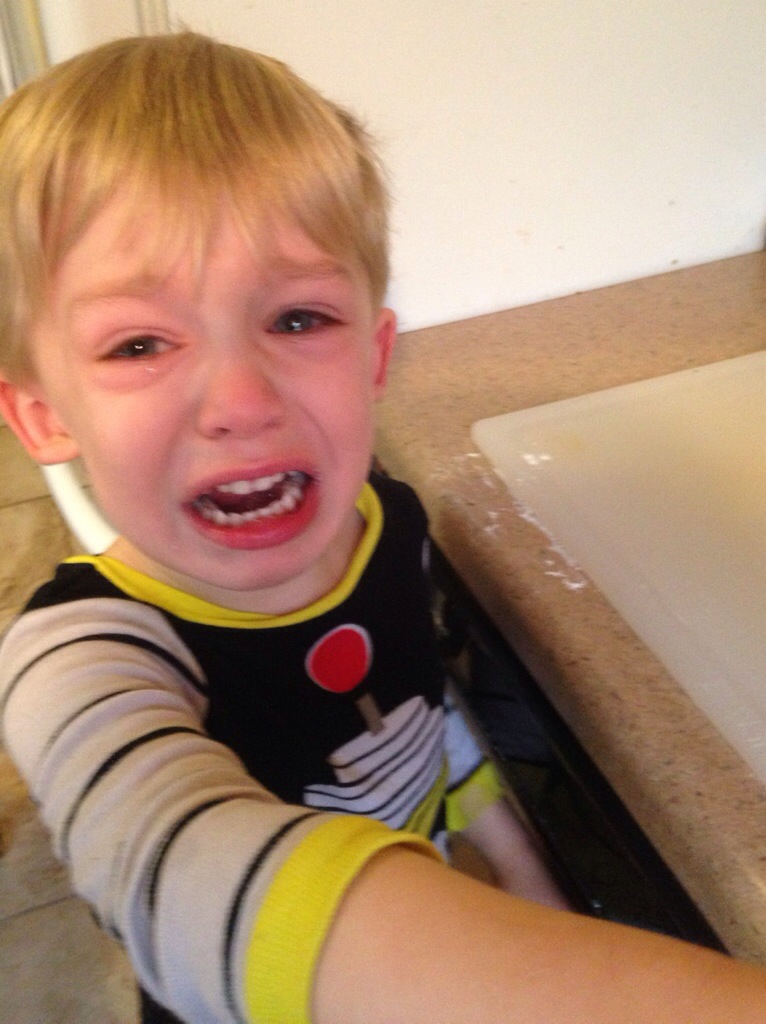 Moving on…. Ignoring the screaming 2 year old. No, seriously, just ignore him. He'll stop. Ok, that's it. Hang on a second while I go put this Ding Dong in time out.
Ok, so while the cauliflower was hanging out in the oven, I moved on to make the second of my favorite meatless finger food recipes:
Green Bean Fries
This was the perfect recipe for us. I felt like something 'snacky' and my 2 year old's favorite food is french fries. So, I thought I'd give Green Bean Fries a try. I first came across this awesome recipe for Parmesan Green Bean Fries. I was all prepared to make that, then realized I was out of Parmesan Cheese. Oops. Wish I had known that an hour earlier when I went to the grocery store. So, then I searched for and found a few green bean fry recipes that didn't require cheese. It seemed pretty simple to figure out how to make them from there and just made up my own mix of seasonings for the breading.
What I WASN'T prepared for was how long it was going to take me to bread the green beans. If anyone has suggestions on how to do this faster, let me know! I breaded SOOO many green beans (one frozen Trade Joe's bag) and it took probably around 30 minutes. I was blessed with a screaming Baby Bean for the last 20 minutes of that. The Munchkin Baby Food Feeder helped him out for a little, but by the end of me making this whole dinner, Baby Bean was NOT happy.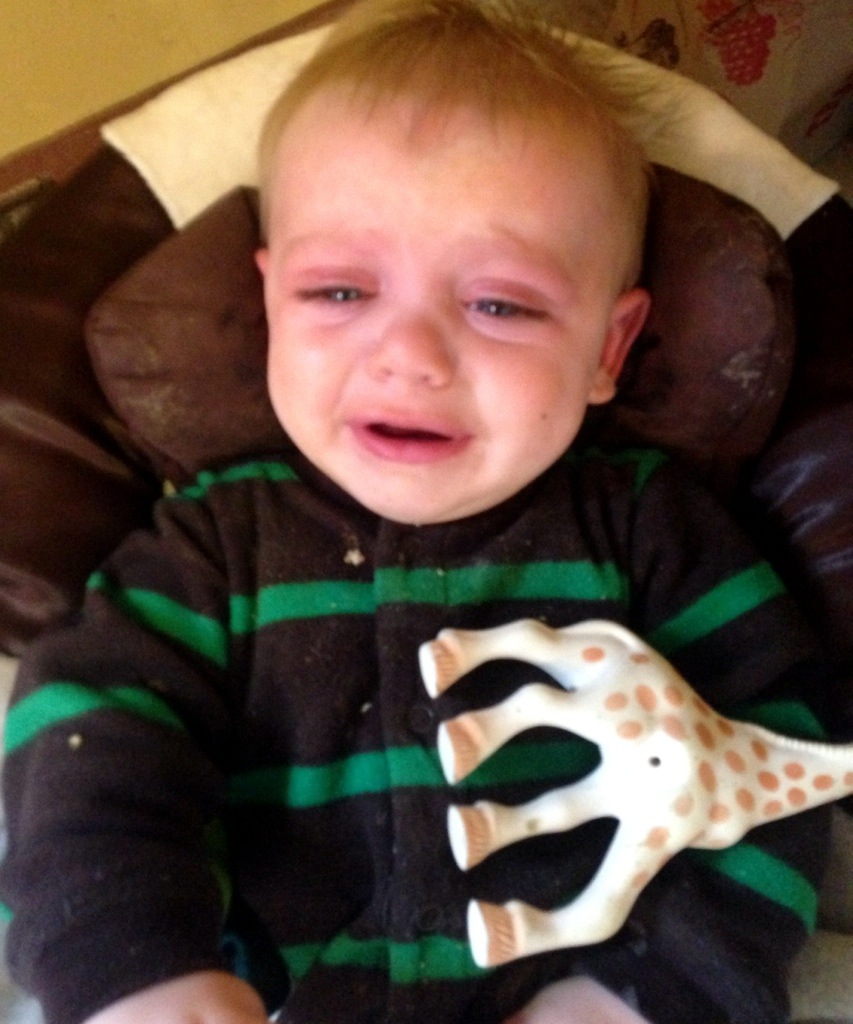 Despite the whole "fingers cramping from breading so many dang green beans while the dang baby screams his head off" thing… I actually would recommend this recipe to anyone. That is simply because the end product was AMAZEBALLS. That's right, I said it. Amazeballs. I would prefer these to french fried potatoes ANY DAY. They were crispy and tasty and yummy and the dipping sauce (see below) was SOOOOOOOOOOO good. The end result was definitely worth the struggle, although I have learned my lesson that this is NOT a dish to attempt when hubby isn't home as kid back up!
Here is the recipe:
Green Bean Fries

Print recipe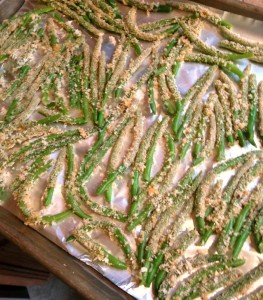 This is a perfect vegetarian appetizer or side dish. These were especially popular with my 2 year old son, he couldn't get enough! They go great with goat cheese dill dip. I didn't have the Ranch Seasoning Mix or Parmesan Cheese on hand when I made these and they were AMAZING without, but I could imagine them being even better with and will be trying that next time. This was a tough one though...the hand breading of the green beans took forever to get right (and to do so many) and I had a screaming baby who was not so happy about that. The end result was so amazing, I would definitely make again, but make sure hubby was home to help the next time I do!
Ingredients
1 bag Frozen or Fresh Green Beans
1 1/2 cup Bread Crumbs (Preferably a mix of panko & Italian)
1 handful Various Fresh or Dry Herbs
1 teaspoon Paprika
1 teaspoon Garlic Powder
1 teaspoon Everyday Seasoning
1 tablespoon Old Bay Seasoning
1 tablespoon Ranch Seasoning Mix (optional (I didn't have this, but it would have been good))
1 teaspoon Salt
1 tablespoon Pepper
1/4 cup Parmesan Cheese (optional)
Note
Your own favorite seasonings and herbs can be substituted.
The Ranch Seasoning Mix or Parmesan Cheese are optional, but would add great flavor!
Directions
Step 1
Preheat oven to 425. Prepare baking sheet, lightly spray with oil.
Step 2
Make sure your green beans, if fresh, are trimmed. If frozen, put in microwave for 3-4 minutes then blot dry.
Step 3
Beat 2 eggs in one bowl.
Step 4
Mix breadcrumbs with your favorite seasonings. Suggested seasonings: everyday seasoning, Old Bay (hubby's from crab country, MD, so this is usually a must), kosher salt, garlic powder, pepper, and paprika.
Step 5
Bread each green bean by dragging through the egg and then the breadcrumb mixture.
Step 6
Lay the green beans out in a flat layer on the prepared baking sheets.
Step 7
Spray the green beans with olive oil. (I forgot to do this and it wasn't a big deal, but a lot of the original recipes I consulted when preparing this suggested this, so It's a step I recommend).
Step 8
Bake in the oven for 10 minutes, flip and bake 5 minutes more. You can broil for 1 - 2 minutes at the end for extra crisp, but be careful not to burn them!
Step 9
Prepare the goat cheese dill dip and enjoy!
Goat Cheese Dill Dip:
Ok, I'm pretty proud of this one, I made this goat cheese dip recipe up all by myself, with only a tiny bit of inspiration from a blue (bleu?) cheese and yogurt dip that was the original suggested accompaniment to the above buffalo cauliflower "wings." The original recipe that I adapted to make this was very simple – it called for you to mix Greek yogurt + blue cheese + salt + pepper. Since I'm not the biggest fan ever of blue cheese, I decided to try to make my own dip with goat cheese, which I just love. I am also happy to report that the dip was a huge hit and worked well with the buffalo cauliflower wings, green bean fries, AND raw vegetables, as you can tell by the Little Bird's sneaky hand going after those cucumbers and dip!
Goat Cheese Dill Dip

Print recipe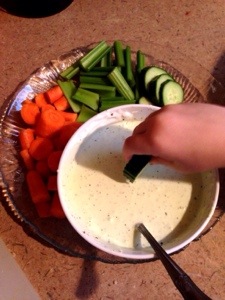 This dip pairs well with vegetarian appetizers and cut vegetables. Serve cold and feel free to prepare a big batch and refrigerate or freeze, because this was extra popular with the kids! (Can you tell by the sneaky hand in the photo?!)
Ingredients
4oz plain Greek yogurt
4oz goat cheese
2oz feta cheese
1 handful dill
1 dash salt & pepper
Note
I think this recipe could work well with various mixtures of Greek yogurt + salt + pepper + herbs + cheese. I say blend away!
Directions
Step 1
Add all ingredients to blender or food processor
Step 2
Blend or process
Step 3
Add a little water if you need to make the dip more thin
Step 4
Serve with your favorite vegetables or appetizers (I particularly like this with green bean fries and buffalo cauliflower "wings!")
And, by now, the Little Bird finally got his act back together. I honestly don't remember how I got him to stop acting up, but I'm pretty sure it had something to do with threatening to throw his toys away. By this point, it was a very long day. Here he is, smiling again: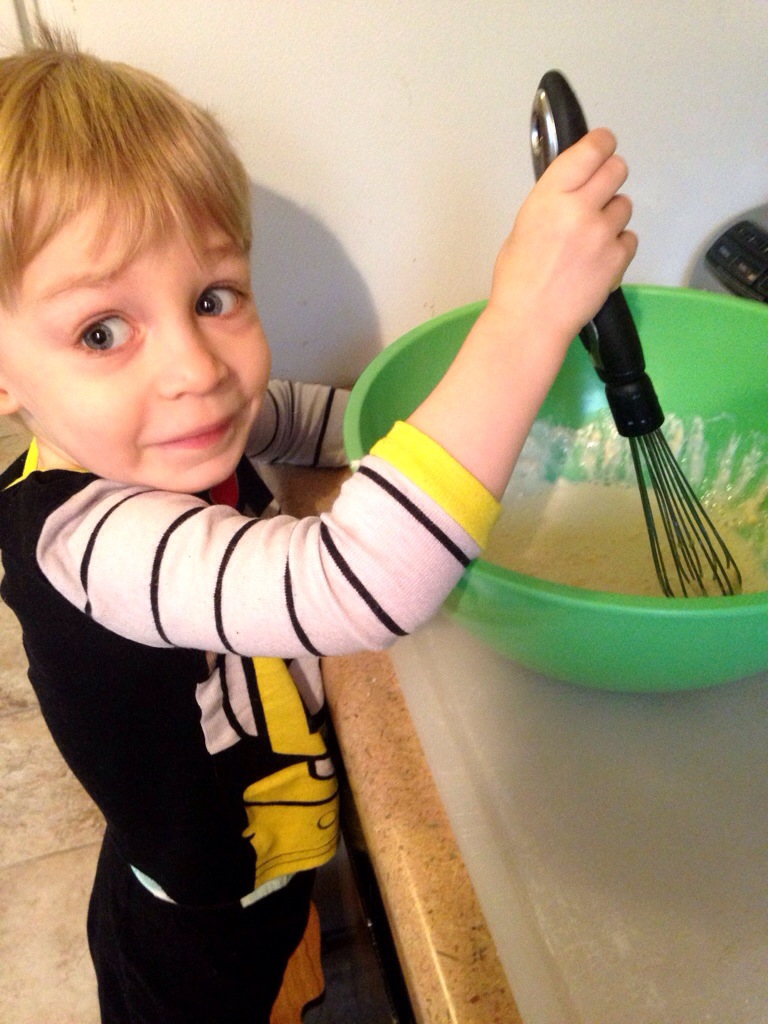 Here it is all together now…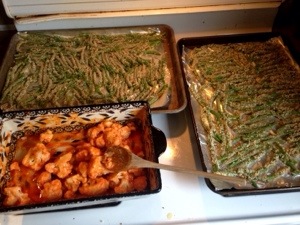 The hubby's plate: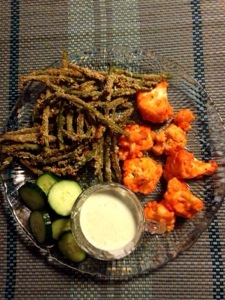 Hope this can be a Meatless Monday (or any day of the week) inspiration for you! Now, tell me…what are YOUR favorite meatless finger food or appetizer recipes??